STATE BOARD OF EDUCATION MEETING RECAP
January 8 – 10
Graduation Requirements
The State Board of Education voted last week to extend the class of 2018's softer graduation requirements for two more years to students graduating in 2019 and 2020.  Board members sited stability for the school districts and students as well as data collection opportunities as reasons for the two-year extension.  The 2018 graduation pathways were provided as an exception for the class of 2018 as new statewide graduation requirements took effect this school year.
Under the eased rules for the class of 2018, students would still have to earn the required 20 course credits, take all end-of-course exams, and retake any of those math or English exams on which they earned a score of 1 or 2 on a 5-point scale.  But they wouldn't have to pass the exams. If they didn't score the required 18 of 35 points, they could graduate by meeting any two of nine other requirements:
93 percent attendance senior year
A 2.5 GPA in at least four full-year senior-year courses
A senior-year "capstone" project
120 hours of senior-year work or community service
Three credit hours via College Credit Plus
Passage of an Advanced Placement or International Baccalaureate class and exam
A "level three" score on each of three components of the WorkKeys test
Industry job credentials totaling at least three points in Ohio's system
Receipt of an Ohio Means Jobs readiness seal.
In order for the relaxed graduation requirements to be put in place for the next two school years, the board's recommendation would have to be included in legislation approved by the General Assembly.  If state legislators approve the policy, it still would need the governor's signature to become law.
The Board plans to continue discussions to create on a long-term solution to the graduation requirements debate on the following timetable:
February and March: committee discussion on what the state wants its graduates to know, and how they can demonstrate knowledge skills and attributes; extension of strategic planning discussions; review of survey results on graduation options
March through May: committee discussion on the needs and purposes of assessments; engagement with educators and the business sector
May through August: discussion of graduation requirements for students with disabilities
September and October: review additional data from the class of 2018; finalize recommendations
November: committee vote on recommendations
December: full board vote on recommendations 
Dayton Daily News: Softer Ohio graduation rules may be expanded for 2 more years
"The state school board overwhelmingly recommended Tuesday that softer, non-test-based graduation requirements be extended to the Classes of 2019 and 2020.  The relaxed standards have already been approved for current high school seniors (the Class of 2018). Those students still must pass 20 course credits, but rather than also passing state tests, they can earn a diploma by achieving any two of nine other standards, such as good senior-year attendance and grades, or via a senior-year project plus 120 hours of work or community service." 
Columbus Dispatch: Board wants to extend relaxed graduation requirements
"The Ohio Board of Education voted 16-1 Tuesday to urge lawmakers to extend relaxed requirements for a high school diploma already given to the class of 2018 to the classes of 2019 and 2020 as well.  "This is our first experience with graduation requirements that aren't solely test based. We have added these other elements in and we don't know yet which of these different pathways to graduation are effective are being used by students, or have value," said board member Laura Kohler of New Albany." 
State Report Cards
The board's Accountability and Continuous Improvement Committee recommended changes to the state report cards to include a separate report card for first attempts and retakes of end-of-course exams. By separating these data points, the Board and the Department of Education expect more districts would be able to increase their 'indicators met'. Creating a separate indicator also ensures that schools aren't discouraged from counseling students who scored low on the first test to retake the test to potentially earn more points toward graduation.
Chris Woolard, senior executive director of the Ohio Department of Education's Center for Accountability and Continuous Improvement, estimated that if the proposed retake indicator had been in place for the latest report cards, 77.7 percent of districts and more than 66 percent of schools would have met it.
If the measure is approved by the full board in February, the proposed indicators met structure will appear on the 2017-18 school year report cards set to be released in September.
In addition to the specific test retake indicator, Superintendent Paolo DeMaria joined the discussion to paint the picture for broader reform on the report card. DeMaria and Woolard reviewed each of the report card's six components, identifying commonly heard issues of criticism or questions.
As reported by the Hannah News Service, issues they identified with each element are as follows:
Achievement Component: Meaningful differentiation, proficiency thresholds, the effect of retakes and the inclusion of non-academic indicators in the Indicators Met measure.
Progress Component: The grading scale, the number of years of data used, weight relative to achievement measures, and the overall complexity of the measure.
Gap Closing Component: Meaningful differentiation and the n-size used in calculations.
Graduation Rate Component: Treatment of students with individualized education programs (IEPs), including severely cognitively disabled students.
K-3 Literacy Component: Confusion created by the indicator's name and its alignment to the third grade reading guarantee, as well as the low grades received by districts with small numbers of struggling readers.
Prepared for Success Component: Appropriateness of the measures used to calculate the component, and the division between which measures are used in the base calculation and which are used to accrue bonus points.
Composite Grade Calculation: Weighting of progress versus achievement components, the generally necessity of an overall grade, the use of an A-F scale and comparability.
Columbus Dispatch: Critics want revamp of Ohio's report cards on schools
"Colorful and packed with a cornucopia of data and letter grades spread across numerous educational categories, Ohio's state report cards.  But how that data are calculated and translated has turned the annual report card into a lightning rod of criticism from teachers, parents and education officials who question whether the information is understandable or fair, or if it provides an accurate measure of a district's academic performance."
Strategic Planning
ODE Chief Strategy Officer Shaun Yoder led the Strategic Planning discussion with the board last Wednesday. The majority of the time was spent on deliberating the state-level vision and overarching goal which read as follows:  
The state-level vision: Each Ohio high school graduate is prepared with the knowledge and skills to pursue his/her chosen post high-school path and become a life-long learner who is an engaged, culturally-aware and contributing member of society.
The overarching goal: To significantly increase the number of graduates who, within a year of graduating, are enrolled and succeeding in post-secondary learning, serving in the military or working in a full-time job that pays a living wage.
The board also reviewed draft lists of strategies identified by the Early Learning and Literacy workgroup and the Student Supports, School Climate and Culture workgroup.  These discussed strategies are still subject to change.
ON THE CALENDAR
Tuesday, January 16
4:00 p.m.
 Ohio Statehouse Room 121
House Education & Career Readiness Committee
 Chair Brenner
HB428 (Ginter, LaTourette) 1st Hearing-Sponsor 
STUDENT EXPRESSION
HCR11 (Gavarone) 1st Hearing-Sponsor 
EDUCATION PLAN
HB418 (Ingram) 1st Hearing-Sponsor 
STUDENT RECORDS
HB246 (Boccieri, Rezabek) 3rd Hearing-All testimony
CLASSROOM FACILITIES
Wednesday, January 17 
3:15 p.m.
 Ohio Statehouse Senate South Hearing Room
Senate Education Committee
 Chair Lehner
HB98 (Duffey, Boggs) 1st Hearing-Sponsor 
CAREER INFORMATION
OHIO NEWS
Cleveland Plain Dealer: ECOT could close this month, loses money, "sponsor" support
"The controversial ECOT online charter school could close by the end of this month after financial woes led its sponsor and oversight agency to pull away. The Electronic Classroom of Tomorrow (ECOT) was told Wednesday by its sponsor, the Educational Service Center of Lake Erie West, that it will suspend its sponsorship because the school cannot meet its financial and legal obligations for the rest of this school year."
Columbus Dispatch: School districts brace for influx of ECOT students
"What does it look like when thousands of students — roughly the enrollment of one of Ohio's largest school districts — suddenly lose their school? Ohio might be on the verge of finding out, as the online Electronic Classroom of Tomorrow, where between 12,000 and 20,000 students attend at any given time, could close within a week because of the lack of a sponsor and bonded treasurer."
Cleveland Plain Dealer: What attributes should a high school graduate have? It's not just the "three R's" anymore
"What should a high school graduate look like in Ohio? The state school board has been weighing that broad and sweeping topic the last few months as members develop long range goals that can shape the future of Ohio's schools."
NATIONAL NEWS
USDOE Releases Education Revenues & Expenditure Data
The U.S. Department of Education's National Center for Education Statistics released its latest revenues and expenditures report (FY15) for public elementary and secondary schools. The report includes national and state totals, revenues by source, expenditures by function and object, and current and instructional expenditures per pupil.
USDOE/IES/NCES: Revenues and Expenditures for Public Elementary and Secondary Education: School Year 2014–15 (Fiscal Year 2015)
"This report contains national and state totals of revenues and expenditures. This First Look includes revenues by source and expenditures by function and object, including current expenditures per pupil and instructional expenditures per pupil."
The 74: The States That Spend the Most (and Least) on Education — and How Their Students Perform Compared With Their Neighbors
"Across the United States, current expenditures for public K-12 education rose by over $18 billion during the 2014–15 school year, according to a new report released by the National Center for Education Statistics. That uptick was part of a 5 percent increase since fiscal year 2013, and total expenditures stood at $575 billion overall for the year."
PROFESSIONAL DEVELOPMENT
STEAM Poetry: Teaching Science through Metaphor
The Wooster team of the John F. Kennedy Center for the Performing Arts' 
Partners in Education
 program will offer an arts integration professional development workshop for grades 4-12 teachers of all content areas on Wednesday, January 31.
Mimi Herman, Kennedy Center Teaching Artist, will present "STEAM Poetry:  Teaching Science through Metaphor" from 4:30-7:30 p.m. at the Tri-County Educational Service Center.  Participants will discover how various concepts and techniques explore the transformation of science into poetry.
Location: Tri-County ESC, 741 Winkler Dr. Wooster, OH
Date: January 31, 2018
Time: 4:30-7:30 p.m.
Chance to Dance
Momentum-Excellence at the Speed of Dance
 invites dance instructors and educators from across the state to take part in one or all of a series of workshops designed to support inclusive dance instruction. The workshops are open to all educators, with the workshop content focusing on dance/ movement.
These workshops are presented in collaboration with 
VSA Ohio
 and 
OhioDance
. The workshops are free of charge to participants, thanks to funding provided by the Ohio Department of Education.
Visual Disabilities
Date: January 22, 2018
Presenter: Dr. Jenny Seham, Director of Dance Education, National Dance Institute
Ohio Music Education Association 2018 Professional Development Conference
Location: Columbus Convention Center
Date: February 8-10, 2018
Arts Assessment: Evidence of Success

High-quality assessments are an integral part of measuring and monitoring student growth and informing classroom instruction. Arts educators are often left on their own to develop assessments and identify student growth measures, often without adequate background in assessment design and implementation.
Our Arts Assessment Professional Development workshop will help educators acquire skills in developing, reviewing, and selecting high-quality assessments. Sessions will focus on foundations of assessment literacy, quality assessment design and an understanding of why they are important to instruction and student learning. Workshops are appropriate for all fine arts disciplines (including dance, music, theater and visual arts.)
Workshops will focus on these topics:
How to prioritize fine arts standards
Deconstruction of standards
Aligning assessments with standards
Principles of Webb's Depth of Knowledge
Arts assessment blueprints – plan of action and creating assessments
Sharing with & learning from colleagues
Assessment resources on the Ohio Arts Collaborative website
To schedule professional development sessions for your district's fine arts teaching staff contact:
Ohio Alliance for Arts Education
614.224.1060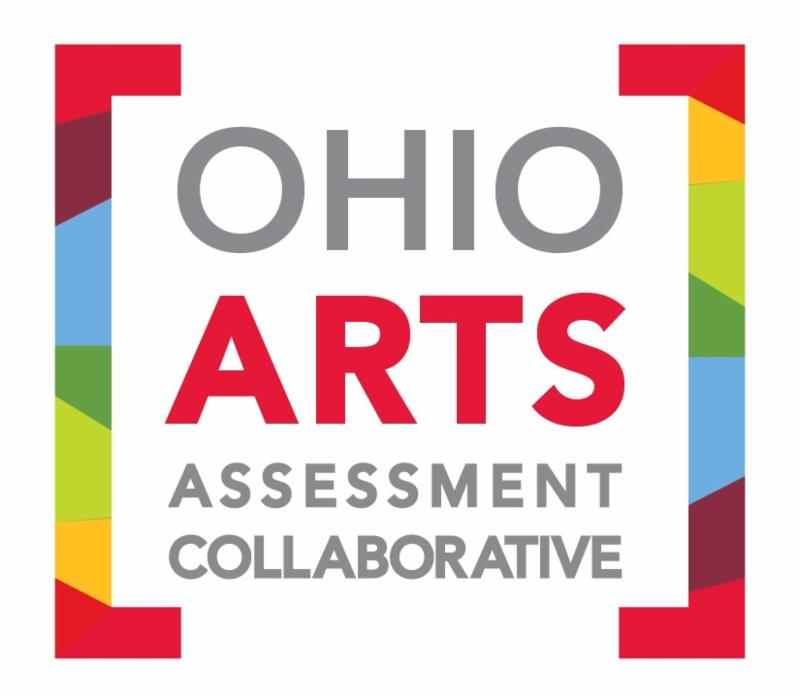 The Ohio Alliance for Arts Education is a leading member of the 
Ohio Arts Assessment Collaborative
, a consortium of Ohio school districts, Battelle for Kids, the Ohio Alliance for Arts Education, and the Ohio State University.
Upcoming public sessions hosted by Educational Service Centers:
Host: Summit ESC
Date: March 7, 2018