PORTRAIT OF AN ARTS ADVOCATE   
Sara Lawrence-Sucato
Q: How did you participate in the arts as a child?
A: I grew up in the Columbus area, and my parents started me in dance lessons when I was a child.  I also took theatre, singing, and magic classes. Performing arts is what I grew to love. I am so fortunate that as a professional dance artist (performer, choreographer and teacher), I can do what I love and it's my career!
Q: Describe your favorite "a-ha moment" in arts education.
A: My work with The Dancing Wheels Company & School as a professional dancer and as an outreach instructor allows me to spread our message of disability awareness and inclusion on many levels. It's always rewarding to witness a young person realize that a person with a disability isn't disabled, she is just differently abled.
Q: How do you practice creativity in your own life and / or what inspires you?
A:  I am inspired by seeing other professional dance artists excel at their craft, whether it be in the studio, classroom or on stage and I strive to be, create, educate and inspire at the highest level for me.
Q: Name one puzzle, or problem, you are working on in the field right now.
A: A person in a wheelchair will find it difficult, nearly impossible I might add, to obtain a degree in dance from an establishment of higher education. There are a small number of teachers who can accommodate physically integrated dance within their course of study. At Dancing Wheels, we believe that by broadening the base of teachers who are apt to teaching physically integrated dance, we can accommodate more students with and without disabilities within our studios and classrooms
Q: Name an arts educator who impacted you and how they influenced your younger days.
A: I have all of my dance teachers from childhood through college and at present as a professional in my field to thank. When I was very young, my teachers at Columbus Parks and Recreation and Powell Ballet kept dance classes fun and entertaining. At Columbus Youth Ballet, I further developed the love of dancing with such a broad spectrum of classes and a diverse cast of teachers showing me what all there is out there to do. At times when I seemed broken, both physically and emotionally, my teachers at Columbus Dance Theatre proved to be a huge support in my life. For helping to develop me as a person and as a dancer, and for influencing my teaching ability/persona now, I am deeply grateful to my teacher mentors.
Q: What can the average person do to advocate for more and / or stronger arts education in local schools?
A: Since we know that the arts in learning provide benefits such as academic achievement, critical thinking skills, and social and emotional development, then continue to integrate arts in education. Bring artists into your schools to work with teachers in enhancing the learning process through the arts.   
---
Portrait of an Arts Advocate is a monthly feature profiling an OAAE member active in advocating for arts education in Ohio. If you would like to submit your information or recommend an #artsed advocate to us, email akruse@oaae.net.
OHIO DEPARTMENT OF EDUCATION 
ODE: Department releases Quality Model for STEM and STEAM Schools
"The Quality Model for STEM and STEAM Schools from the Ohio Department of Education is now available. This document clarifies high-quality STEM and STEAM school practices and gives examples. Schools seeking STEM or STEAM designation or those interested in innovative instructional approaches should consult this document. Additional information on STEM topics can be found on the Department's STEM webpage." 
ODE: Ohio Announces the OhioMeansJobs-Readiness Seal for Ohio High School Graduates to Show Workplace Readiness
"Ohio high school students now can earn recognition by showing they are prepared to contribute to the workplace and their communities. The OhioMeansJobs-Readiness Seal is a formal designation students can earn on their high school diplomas and transcripts indicating they have the personal strengths, strong work ethic and professional experience that businesses need." 
Columbus Dispatch: State Unveils a New Seal for Ohio Graduates to Show Job Readiness
"Members of the high school class of 2018 now have one more option toward earning a diploma: getting adults to attest that they have skills that would help in a job setting, such as leadership, punctuality, being technologically savvy and an ability to solve problems."
ODE: Striving Readers grants available: application workshop planned for January
"Ohio received a $35 million Striving Readers Comprehensive Literacy Grant from the U.S. Department of Education to continue improving language and literacy development in Ohio students.  The Department is hosting a two-day Literacy Academy in Columbus Jan. 17-18 for those who are eligible to apply. Academy participants will receive technical assistance with their applications, as well as instruction on improving evidence-based language and literacy instruction and interventions."
ON THE CALENDAR
Monday, January 8
8:00 a.m. Ohio Department of Education, 25 S. Front St, Columbus
State Board of Education Meeting
Tuesday, January 9
8:00 a.m. Ohio Department of Education, 25 S. Front St, Columbus
State Board of Education Meeting
OHIO NEWS
This Week: Olentangy's Juravich makes short list of nation's top teachers
"An Olentangy elementary school teacher is a finalist for the National Teacher of the Year award. The Council of Chief State School Officers on Jan. 4 announced Olentangy's Jonathan Juravich is one of four teachers up for the nationwide honor. Juravich, an art teacher at Liberty Tree Elementary School just north of Powell, was named the 2018 Ohio Teacher of the Year by the Ohio Department of Education last September." 
Columbus Dispatch: High School Graduation Rates Highest in U.S. History – Columbus Dispatch
"For the first time in U.S. history, the proportion of Americans 25 and older who have earned their high-school diplomas has topped 90 percent, according to U.S. Census data released on Friday. Educational attainment has been increasing steadily over the decades. In 1940, 75.9 percent of U.S. adults hadn't finished high school." 
Cleveland Plain Dealer: Tests Should Be Cut Back Further, State School Board Tells Ohio Legislature
"The state school board is asking the Ohio legislature to wipe out three items that add a testing burden to teachers and students — the high school English I exam, WorkKeys tests for some career training students and requirements that some tests be given just to evaluate teachers."
Cleveland Plain Dealer: Ohio's Test Score Graduation Requirements Could Be Eased for Classes of 2019 and 2020
"Ohio's new test score requirements to graduate from high school could be eased again, under plans gaining traction in the state school board. Statewide requirements that students score well on state tests in order to earn a diploma took effect with the class of 2018, this year's senior class. But worries about a graduation "apocalypse" or "trainwreck" because of low scores led the board and state legislature to ease the requirements earlier this year, just for the senior class."
NATIONAL NEWS
Feds Give Feedback on Ohio's ESSA Plan
In December, the U.S. Department of Education (USDOE) requested the Ohio Department of Education (ODE) revise the state's submitted Every Student Succeeds Act (ESSA) plan by January 4. Education Week noted that the USDOE flagged Ohio for issues in its accountability system and process for identifying low-performing schools. USDOE feedback said the plan was unclear on how the state is considering English-language proficiency as a separate indicator since it is incorporated into its gap-closing measure, needs to better explain how the gap-closing measure fits into the overall system, and needs to ensure timelines for flagging struggling schools comply with law. ODE submitted Ohio's original plan in September 2017.
US News & World Report: Concerns Mount Over K-12 Education Plans
"As states cement education plans for their schools under the federal K-12 law, the Department of Education is working furiously to assess them amid mounting concerns about states' commitment to following the law, their proposals to ensure historically disadvantaged students have access to quality education, and the department's capacity – and in some cases, lack of desire – to police it all."
FYI ARTS
The application for the Ohio Arts Council's newest arts learning program, TeachArtsOhio, is now open. The deadline to apply is February 1, 2018. TeachArtsOhio's goal is to expand learning opportunities through the arts and increase academic achievement across the state.
Through TeachArtsOhio, the Ohio Arts Council will provide funding to support professional teaching artists to teach in schools and classrooms for up to the full 2018-19 school year at no cost to the school district. 100 percent of the artist fees are paid for using Ohio Arts Council funds, alleviating financial burdens from school and district budgets. No cash match is required.
Teaching artists will work with school faculty and staff to bring their education communities together with teaching artists to share engaging, personal, high-quality arts learning experiences.
The Ohio Arts Council's Arts Learning staff welcomes the opportunity to attend meetings or events in your area to share information about the new TeachArtsOhio program and answer any questions.
The application deadline is February 1, 2018. For more information about the program and how to apply, visit 
oac.ohio.gov.
PROFESSIONAL DEVELOPMENT
Chance to Dance
Momentum-Excellence at the Speed of Dance
 invites dance instructors and educators from across the state to take part in one or all of a series of workshops designed to support inclusive dance instruction. The workshops are open to all educators, with the workshop content focusing on dance/ movement.
These workshops are presented in collaboration with 
VSA Ohio
 and 
OhioDance
. The workshops are free of charge to participants, thanks to funding provided by the Ohio Department of Education.
Physical Disabilities
Date: January 12, 2018
Presenters: Mary Verdi Fletcher, Founder and Sara Lawrence Sucato, Touring Manager, 
Dancing Wheels
Visual Disabilities
Date: January 22, 2018
Presenter: Dr. Jenny Seham, Director of Dance Education, National Dance Institute
Ohio Music Education Association 2018 Professional Development Conference
Location: Columbus Convention Center
Date: February 8-10, 2018
Arts Assessment: Evidence of Success

High-quality assessments are an integral part of measuring and monitoring student growth and informing classroom instruction. Arts educators are often left on their own to develop assessments and identify student growth measures, often without adequate background in assessment design and implementation.
Our Arts Assessment Professional Development workshop will help educators acquire skills in developing, reviewing, and selecting high-quality assessments. Sessions will focus on foundations of assessment literacy, quality assessment design and an understanding of why they are important to instruction and student learning. Workshops are appropriate for all fine arts disciplines (including dance, music, theater and visual arts.)
Workshops will focus on these topics:
How to prioritize fine arts standards
Deconstruction of standards
Aligning assessments with standards
Principles of Webb's Depth of Knowledge
Arts assessment blueprints – plan of action and creating assessments
Sharing with & learning from colleagues
Assessment resources on the Ohio Arts Collaborative website
To schedule professional development sessions for your district's fine arts teaching staff contact:
Ohio Alliance for Arts Education
614.224.1060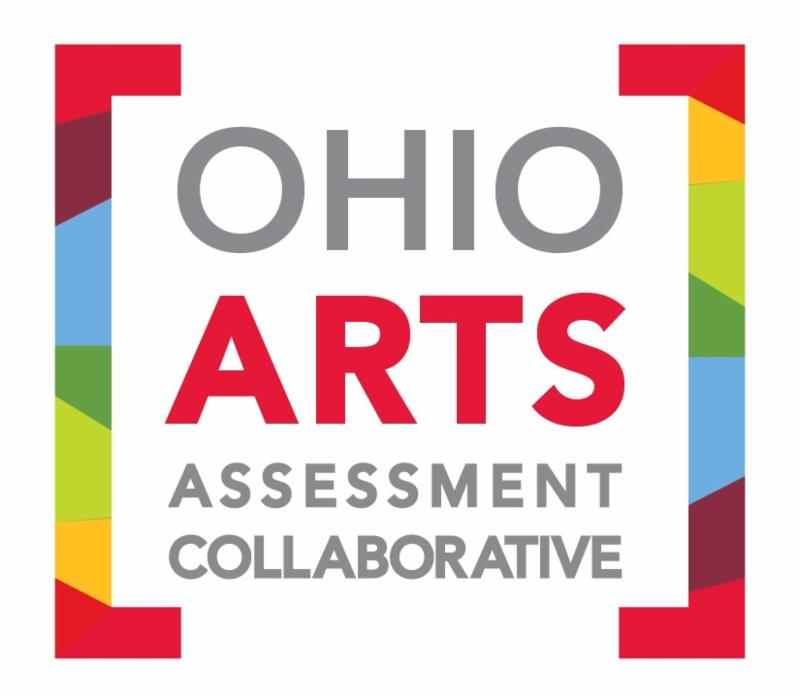 The Ohio Alliance for Arts Education is a leading member of the 
Ohio Arts Assessment Collaborative
, a consortium of Ohio school districts, Battelle for Kids, the Ohio Alliance for Arts Education, and the Ohio State University.
Upcoming public sessions hosted by Educational Service Centers:
Host: Summit ESC
Date: March 7, 2018